31 Miles

Book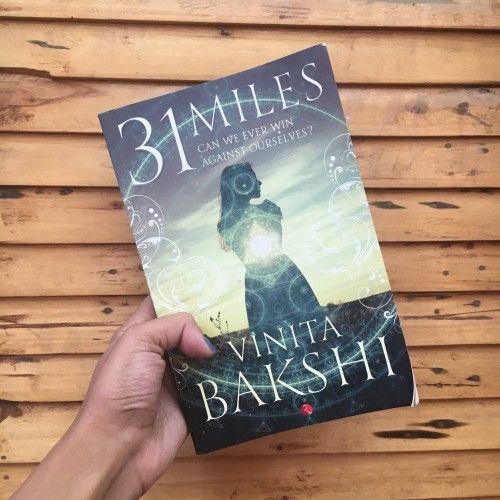 My Debut Novel, 31 Miles- Can We Ever Win Against Ourselves?
Book Is published by Rupa and has been released world wide in Nov. 2016
Date - 3rd Dec 2016
Time - 2.30 pm
Venue - IHC library lounge
"Mansa has the perfect family life—a husband, two daughters and a big house. But she feels that something is missing. She decides to step out and seek a career. While enjoying the new-found freedom and confidence, she completely immerses herself in her work and her new life. Till one fateful day when she finds herself embroiled in a passionate affair—with an online lover. And then everything falls apart!
Will she give it all up for the elusive mirage created by the stranger? What turn will her life take next?"
31 Miles explores how the onslaught of technology into our most personal and intimate spaces will impact human relationships and the dynamics in established intuitions like marriage.
The book has received advance praise from international journalists, senior media personalities, filmmakers and people from different spectra of life. The book is available worldwide on Amazon and Flipkart and all the leading bookstores across the country.Rupa publications launched it on 15th Nov. with a riveting discussion moderated by Rajiv Makhni with Vinita Bakshi, author, 31 Miles, Vani Tripathi Tikoo and MD Rupa Publications Kapish Mehra as panel.

Shop on Amazon Shop on Flipkart
Vinita has exceptional writing skills, and a remarkable ability to capture how others speak and behave. These skills - among others - can be seen in her forthcoming novel, "31," which will be published by Rupa in 2016. I've read an early draft, and was mesmerised. Vinita also has other novels forthcoming, this time in Hindi. Readers are in for a huge cornucopia of literary treats.

Pranay Gupte (Bestselling author, historian, biographer)
31 Miles has strong reverberations of the twin forces of the contemporary life in Indian cities - the scientific and the mythical. Mansa, the protagonist, bounces on the limits of both in her journey to discover her secrets. This is a very relatable story set in the magical world of a real Indian woman. It is an exhilarating movement from belief in the known to trust in the unknown.

Imtiaz Ali (Director, Actor, Writer)